The Multi-Service Centre: Celebrating a Caring Community!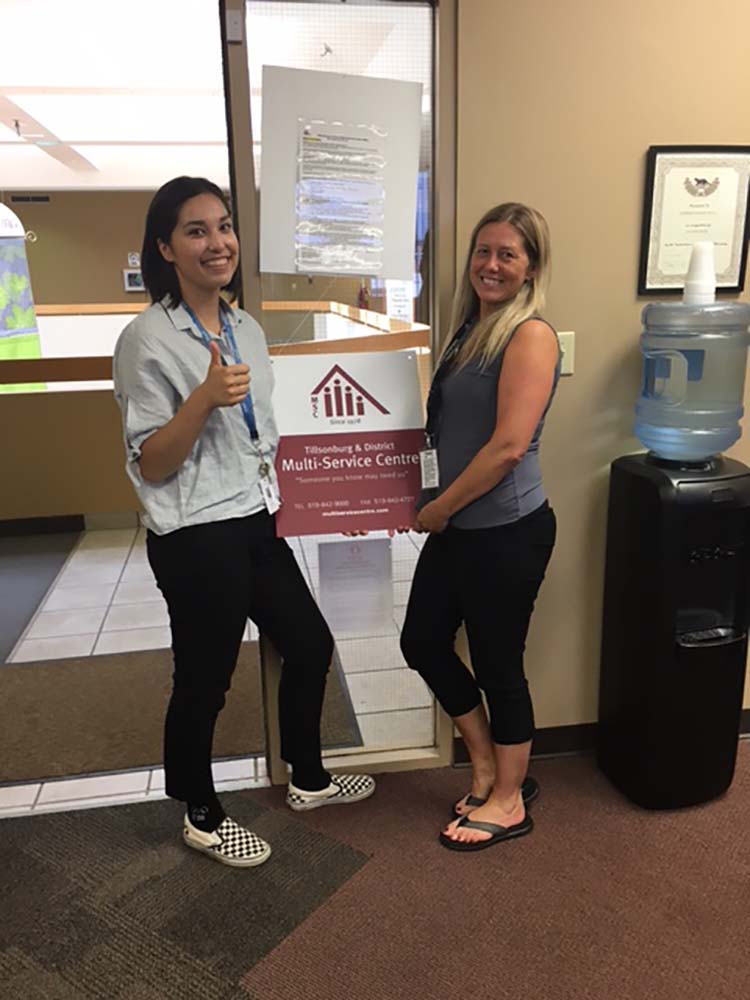 The other day I had the opportunity to speak with Michelle, Home Support Coordinator for the Multi-Service Centre in Tillsonburg. She was so kind, and patiently answered my endless questions! You can really tell when someone is passionate about their job, and Michelle is very passionate! After speaking with her about the Centre, I now understand how crucial it is for seniors to be involved with community organizations! Although some seniors are independent, and living at home, they may still need help with a few things around the house, going grocery shopping, filling prescriptions, and much more! These are just some of the activities the Centre helps people with!
My own grandparents actually live in Japan. My grandma, or obachan in Japanese, just turned 80 years old and lives independently in her own home. Even though she is a fiercely independent woman, teaching dance, cooking, and art classes in her neighborhood community, as well as participating in sports such as "Ground Golf", (a mix of bocce ball and golf) – she still needs a little extra help around the house. Does this make her any less independent? Not at all! Independence does not only mean self-reliance and self-support, but it can also mean acknowledging your independence while also understanding your limitations; in this regard, truly understanding yourself and knowing what´s best for you is crucial in furthering your independence.
This is why community organizations such as the Multi-Service Centre in Tillsonburg are aimed at helping seniors find this balance, while encouraging healthy living. The Centre offers different programs that help with this mission, with one of the most popular being the Assisted Living Program. Assisted Living is government funded, and cost-free for participants. The program really does put an emphasis on independent living, and being able to live in the comfort of your own home. By providing services such as meal preparation, personal care, hygiene, bathing, foot care, medication monitoring, light housekeeping, social outings, and an exercise assessment, the focus is on the individual's autonomy and the concept of aging well at home. In doing this, they integrate programs such as ConnectCare. This allows them around the clock assistance for seniors and those who have functional challenges; it helps give them peace of mind.
Another popular program within the Multi-Service Centre are the Foot Care Clinics! Personal Support Workers trained in foot care go into homes and clinics in the Tillsonburg and Ingersoll areas; as well as the diabetic clinic at Tillsonburg Hospital. One-on-one service is provided by trained professionals.
Other offerings of the Multi-Service Centre include Meals on Wheels, housekeeping, transportation, exercise, and more. There is a really neat hot meal program that partners with different restaurants within Tillsonburg that offer meals for participants. This is a fun way to try something new, and to support local!
One of the most amazing aspects of the Centre is that it is entirely volunteer based! Many volunteers are independent and healthy seniors that are able to provide excellent care and service to others in need. The Centre is always looking for volunteers; if you're interested, do give them a call.
As always I asked Michelle what her favourite part of the job was, and she mentioned that despite the stress of each day, and the big challenges that sometimes spring up, just knowing that she's able to positively impact someone´s life and improve their quality of life truly makes this job so rewarding! I agree with her. My grandma is one of my biggest inspirations in life. I hope that when I´m her age that I can be as full of life and happiness as she is. The good news is that with organizations like this, I can look forward to staying independent and healthy as I age!
Thank you Michelle for all of your help and great information! For more information and how to get involved, call 519-842-9000.