Basic Button
Whether worn around your neck or wrist, the basic button provides help at the press of a button. When the button is pressed, a help call will be placed to our emergency response centre. An Emergency Response associate will assess the situation and send help quickly. Even if the Emergency Response Associate cannot make verbal contact with you, help will be dispatched immediately.
All of our buttons are waterproof and can be worn in the bath or shower.

* All Pendant style alert buttons are now equipped with
AutoAlert Option
ConnectCare also offers an additional layer of protection with the AutoAlert button. In addition to being able to press the button for help at any time, our enhanced AutoAlert button automatically calls for help if a subscriber has fallen and is unable to press the button because they are immobilized or unconscious. The button is small, discreet and provides a direct line to emergency assistance.
The AutoAlert button is 100% waterproof so it can be worn in the bath or shower.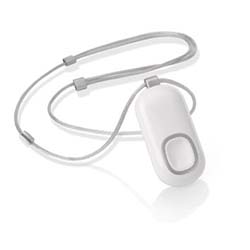 And you never have to worry about changing batteries. As soon as a low battery signal is detected, a brand new AutoAlert button will be delivered right to your door!
Voice Extender
Voice Extenders are for those in larger homes.
This equipment extends the voice range of the communicator. The Extender must be installed at least 50 feet away from the communicator.
Lock Box
Lock Boxes provide a more secure means of entry to a subscriber's home for Emergency Medical Services, or responders, in case of emergency.